Halfway through the Autumn Term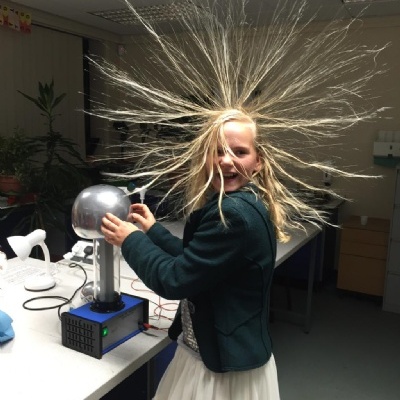 I wanted to highlight some examples that make me feel proud to be Headteacher at Upton.
Here we are halfway through the autumn term already, and what a busy and successful half term it has been.
I just wanted to take this opportunity to highlight a couple of examples that really make me feel proud, and privileged, to be the Headteacher at Upton.
Firstly, on our results' days in August we were delighted to celebrate our GCSE and A level results with students, staff and parents and you will see in this edition some of the highlights. There were some superb achievements in terms of grades and also valued added progress, and I would like to congratulate all of our students and staff for their accomplishments.
Secondly, on 24th September we held our Open Evening which was very well received. We welcomed several hundred visitors who were treated to a wide range of exciting activities, as you can see from the picture of the Van Der Graff Generator. We received many glowing emails and comments about how much everyone enjoyed the evening and in particular, how impressed they were by our wonderful student helpers and guides! Here is a sample of their emails:
'I have just returned from your Open Evening. My husband and I were very impressed with the school. The teaching staff were committed, enthusiastic and knowledgeable and the school's ethos was clearly defined. I would like you to pass on our thanks to the three very helpful 6th Form girls who showed us around - Ellie , Rosie and Jordan. They are all a credit to the school, as I am sure you know.'
And….
'We attended the Open Evening this evening and I just wanted to extend my thanks to one of your students Jack who kindly gave us a tour of the school. Jack was polite, courteous and very friendly - a real credit to the school. He was extremely informative and it was lovely to see the relationship he had with many teachers across the school. I was impressed by Jack's knowledge and his confidence and would like to thank him again for giving his time this evening.'
And another……
'My husband and I attended the open evening last night at Upton-by-Chester High school, as we are hopeful that our daughter will be starting with you next September. We were very impressed with the school and our daughter is very keen to start!
The recent Ofsted report speaks for itself regarding the academic achievements of the school. However, it is the individual's experiences and personal achievements that are equally as important.
Christina was our guide for the evening. As expected, Christina was very polite and helpful, and very patient with my daughter and her friends, who wanted to access all the departments within the school! I think the most invaluable aspect of the evening was Christina's personal experiences of how the school and staff have supported her through her academic challenges. Christina was very complimentary about the school and staff, and she was absolutely lovely with my daughter, in reassuring her that the staff support the pupils to achieve their maximum potential, but provide individual support and encouragement as required.
I just wanted you to know how impressed we were with Christina, and what a wonderful asset and role model she is for your school!'
I hope you all have a restful and safe half term break and I look forward to welcoming you back in November.