Blue shirt collection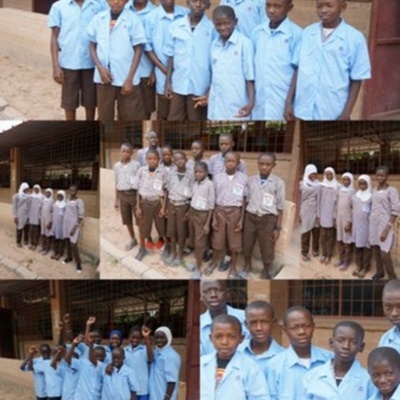 Following the collection of unwanted blue shirts last year, here is an update on what happened next.
Last year the school voted to no longer have a summer uniform, which resulted in many good quality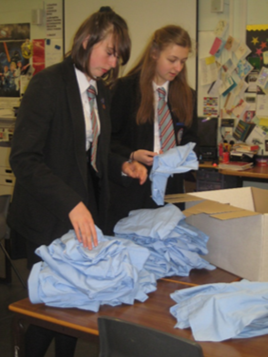 blue shirts no longer being of use. I suggested that we should donate the shirts to schools who could find a use for them. With efforts from the Head of Suu Kyi Hall, Mrs Jackson, and the Year 11 leadership teams, we were able to collect an impressive 1000 plus shirts! Thanks to funds raised by our own Eco Team, we were able to contribute towards the transportation costs to send the shirts to their new destinations. Overall, it was a resounding success, due to a great team effort from the whole school!
Rhianna
Year 11 Suu Kyi Hall Prefect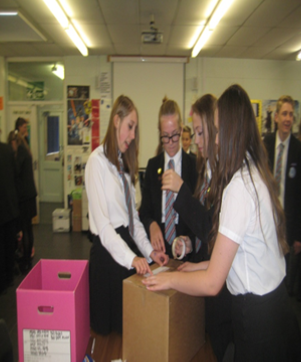 Following Rhianna's suggestion, we sent a letter out on school comms, and were overwhelmed with the response from parents and students, as blue shirts poured into school. We contacted International Aid Trust, who were thrilled to be able to receive so many shirts. They took half of the shirts, and split them between The New Hope School in Sierra Leone, and a refugee camp in Albania, where they have formed a school for the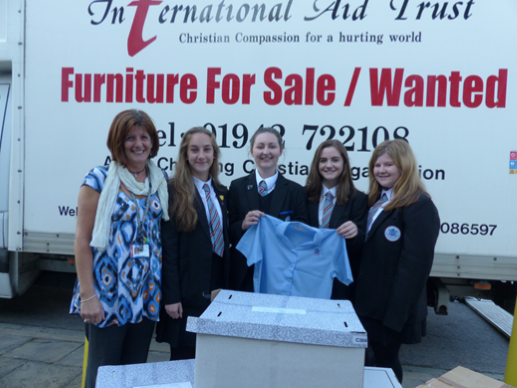 children living there. The remaining shirts were collected by a lovely volunteer, Baboucarr, who took them to Janbur Basic Cycle School in Gambia.
We are currently developing links with this school, and some of their teachers are visiting us in June. They will be speaking to the children during their visit. The collection of our blue shirts has been a wonderful experience, and has truly been a whole school project. It has involved students collecting shirts, all of the Hall's leadership teams sorted, folded and packed the shirts. We even had Sixth Formers washing some shirts! Our Eco schools have raised money from re-cycling, and this is the ultimate re-cycling project! Thank you to all our students, parents and staff for all of their support.
Mrs J. Jackson
Suu Kyi Hall Leader
"Some photos of the children and the shirts; the school would like to use the shirts for prizes and for some of their groups - like the science and maths club and the scouts – they were very impressed with the quality :)"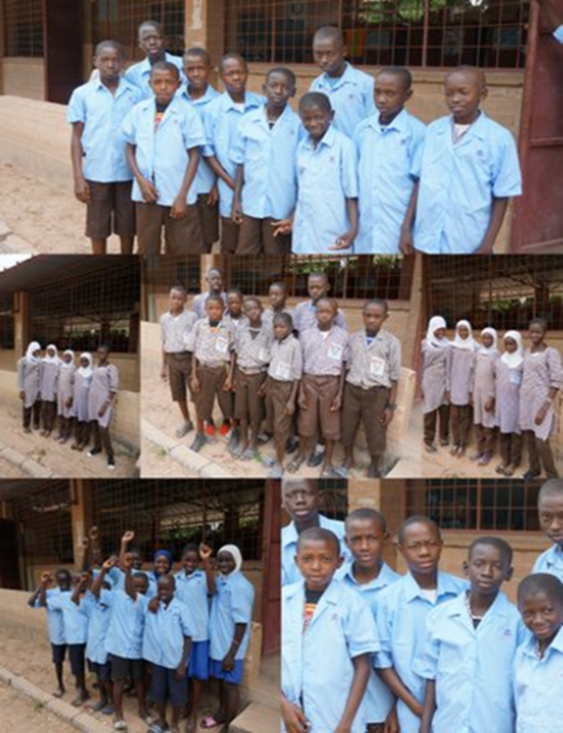 Facts about the school:
· 744 students.
· The school is made of two parts,
· Lower ages, from 7 to Il, and
· Upper ages from 12 to 18.
· The students come to school either 8 until 1, or 1 until 6. There isn't enough room for them all to go to school so they have to take turns to attend school.
Janbur Cycle School