Biology Expedition To Madagascar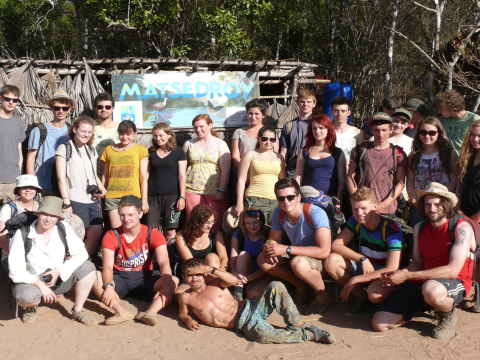 This was our first expedition with Operation Wallacea. After flying into the capital 'Tana we undertook the long, long drive to the Mariarano forest camp which would be our base for the first few days. On the way, we stopped overnight in the town of Mahajanga, and visited the famous giant baobab tree there. Once at camp, the fieldwork commenced, with midnight reptile surveys, (which yielded a suspected new species of Leaf-Tailed Gecko) bird surveys (visual and audio), forest biomass estimations and biodiversity lectures and walks. The data collected was used as part of a project aiming to halt illegal logging in the area.
We then changed camp by hiking to the satellite camp at Maradoka, where further fieldwork was conducted, including arachnid surveys, and analysing motion-sensing video camera evidence.
After another epic road trip (which allowed us access to some incredible sights and people in itself) we arrived on the island of Nosy Be to the North, surrounded by the breathtaking Lokobe Nature Reserve. Here we undertook PADI open water scuba qualifications, and studied a reef ecology course. That's us on the promotional video on the Opwall site.
Before the flight home we visited the Royal Palace of "the Tyrant Queen" Ranavalona, and enjoyed a more comfortable meal and sit down at the magnificent station in 'Tana.
Madagascar, where else can you see Lemurs in the wild?