Maximising Success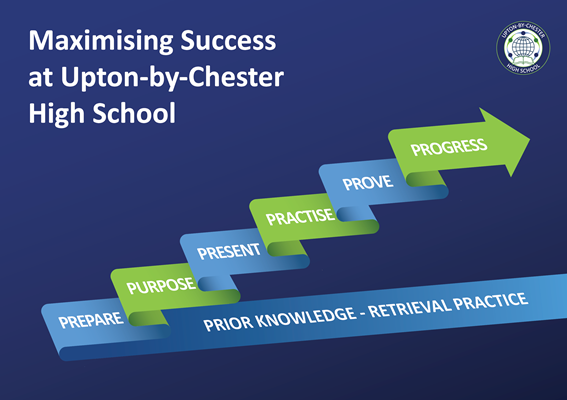 All lessons at Upton-by-Chester high school are planned and delivered using our Maximising Success model of learning and teaching. All lessons incorporate the phases of learning illustrated in the model above. Learners and teachers Prepare for each lesson and there is a very clear learning Purpose. Teachers Present new information and learners have opportunities to Practise using this new information. We regularly use retrieval practice to recall Prior knowledge that has previously been learned and learners are required to Prove that they have met the learning Purpose each lesson. Learners and teachers will assess the Progress and learning that has occurred each lesson.
The Maximising Success model is bespoke to our school and ensures consistency in the highest standards of learning and teaching. It is underpinned by the elements of the Teacher Effectiveness Enhancement Programme (TEEP). However, we have simplified and personalised the framework for our own school community. More information about TEEP can be accessed below.
Effective learner behaviours for each phase of learning can be viewed on the following link. https://docs.google.com/document/d/1DJzsGWzGV4CYBt94andl5kvlIJWzzWz0/edit
TEEP
What is the Teacher Effectiveness Enhancement Programme (TEEP)?
A framework for effective teaching and learning developed from research evidence
An effective CPD programme
A process not a product
Delivered by outstanding teacher practitioners who have themselves been through all levels of TEEP training
Generic- all subjects, all phases

TEEP provides a holistic framework that goes far beyond a lesson planning tool. It influences every aspect of the school, including culture, ethos, behaviours, vision and values" Dr J Gunraj, Independent evaluation, 2010
Quality Mark of innovation awarded to Upton-by-Chester High School
We are honoured to have been awarded TEEP Ambassador status by the SSAT (Specialist Schools and Academies Trust) in recognition of our success and commitment to continuous improvement through the Teacher Enhancement Effectiveness Programme (TEEP). This is an acknowledgement of the innovative work we have been conducting with staff and students and our aspirations for the future.
TEEP Ambassador School status enables schools to evidence their impact and provides a quality mark of innovation and improvement through the TEEP framework.
Upon hearing the news, Mr Keegan, Second Deputy Headteacher and national TEEP leader said: "I am extremely proud of this achievement and recognition which shows how innovative and how forward looking our staff is in delivering a 21st century curriculum."