Christmas 2015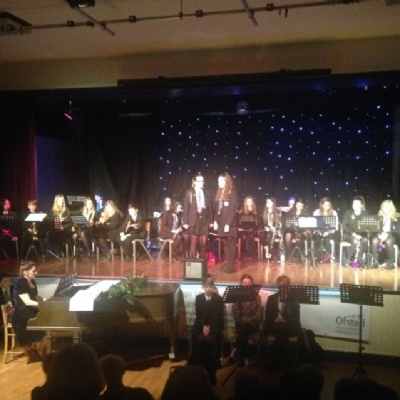 After a very busy end to the term, we look forward to Christmas and 2016.
The Autumn term 2015 has come to an end and how busy it has been. Our Music Department has again been out and about in our community, spreading good cheer wherever they go, and our annual Christmas Concert was superb as always.
We are immensely proud of our students, current and former, for their achievements. I am delighted to tell you that the GCSE awards evening was a great success and as I write I am thoroughly looking forward to the A Level awards evening later this week. I was especially proud to welcome back to our school former students as our guests of honour for both occasions, Jennifer Davies, a singer and composer, and Jessica Hunt, a talented dancer, both of whom have achieved notable success in their professional careers. Well done to all of the students, staff, parents and carers who made these outstanding results possible.
I would also like to take this opportunity to congratulate our new Year 7 students who have had a very successful first term as Upton High School students. They have settled in well and I look forward to working with them over the next 7 years and watching them achieve their goals.
I must also congratulate our Year 11 students who have survived their mock exams and are working hard preparing for their final exams. After Christmas it's the turn of our Year 13 students to prove themselves in their mock exams and I look forward to hearing of their successes.
As a school we have been involved with many charitable activities during this term, including raising money for books for children in hospital and supporting the Big Toy appeal. Our students and families are always so generous both with their time and their money – a marvellous example of this is our annual Christmas Fair supported by our PTA which raised over £2000.
We have also been fortunate to welcome some very prestigious visitors during the last half term namely Sir Bert Massie, a Disability Rights Campaigner and the Lord Speaker Baroness D'Souza.
I must finally mention our amazing students who have brought so much pride to our school including the chemistry students winning first and second place in the Royal Society of Chemistry annual quiz; a number of Sixth Form students took part in the UK Mathematics Trust (UKMT) competition receiving either gold, silver or bronze awards and of course our Mandarin students making the national finals of the Mandarin competition, against some stiff competition, which will be held in London towards the end of next term.
May I wish you all a peaceful, safe and happy Christmas break and I look forward to working with you all again in the New Year.