A Level Results 2014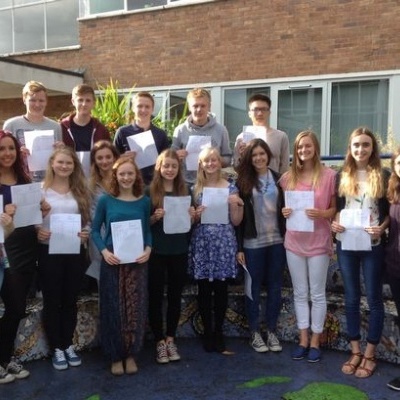 Outstanding results which exceed national averages and the number of students gaining A* and A grades are up again.
We are delighted with our A-level results. Almost 55% of its students achieved A*, A or B grades which is a further increase on last year's results and again above the national average.
78% of our students gained A*-C grades and a 100% success rate in the prestigious EPQ. The number of students gaining A* and A grades is also up – 28% compared to the national average of 26%.
Once again the school has a large proportion of students who have gained top grades in sciences and maths (STEM subjects) as well as in the arts and social sciences and who will be going on to study at elite universities.
Headteacher Paula Dixon said "I am absolutely delighted at these outstanding results which comfortably exceed national averages and are a further improvement on last year's successes. It is proof that real team work and consistent effort does lead to success.
"These results have not happened by chance, they are testament to the tremendous hard work, dedication and commitment of the staff and students combined with the support from the parents and carers of Upton High School. I would like to thank everyone involved for their contribution towards the continuing success of Upton-by-Chester High School, which continues to go from strength to strength."