BBC Bitesize School Tour
On the 4th of February our school was extremely lucky to have a Careers presentation from the BBC.
Over 750 students were able to attend it throughout the day. There were three main guests and Nick Bright, a presenter from BBC Radio 1Xtra. The three guest speakers were:
Hannah Budden, a Senior Media Executive at Carat, an advertising company;
Dami Sule, an R&B Soul musical artist and a nurse;
Jack Welsh, a freelance Arts producer who works with art exhibitions in Chester and around the UK.
The guest speakers answered a lot of questions about their experience in the creative industry and reassured us that you don't have to know the exact job you want to do until later in life. For instance, Hannah only figured out what she wanted to do in the last year of university when her friend was going into the advertising industry as her job and she thought she'd enjoy it too.
It was interesting to find out about jobs we didn't even know existed and it gave us an insight into what is available to us.
During the presentation, the speakers informed us about the BBC Bitesize website and app that you can use for revision, quizzes and to find out more about Careers. Also, we were able to ask our own questions into a rugby ball microphone which was thrown to anyone with a question which was great fun. One of the questions was "What is your favourite part of your job?". They said that they enjoy meeting new people on a day to day basis. After the presentation we (Daisy and Hattie) were able to ask the radio presenter a few extra questions of our own. We asked, "What different apprenticeships are on offer at the BBC?" and "How did you start your career as a radio presenter?".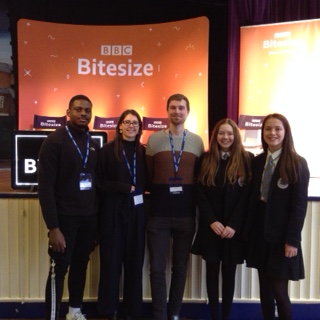 We discovered that there are a lot of different apprenticeships on offer in production, journalism and many other fields. Also, we found out that he started his career by helping at local radio stations and getting work experience there. It was such a fun day and we are grateful that they could come in to speak to us all.
Daisy and Hattie (Year 9)