Art & Design
"Our Principle Aim is to Develop Independent and Creative Thinkers"
Developing knowledge through the process of making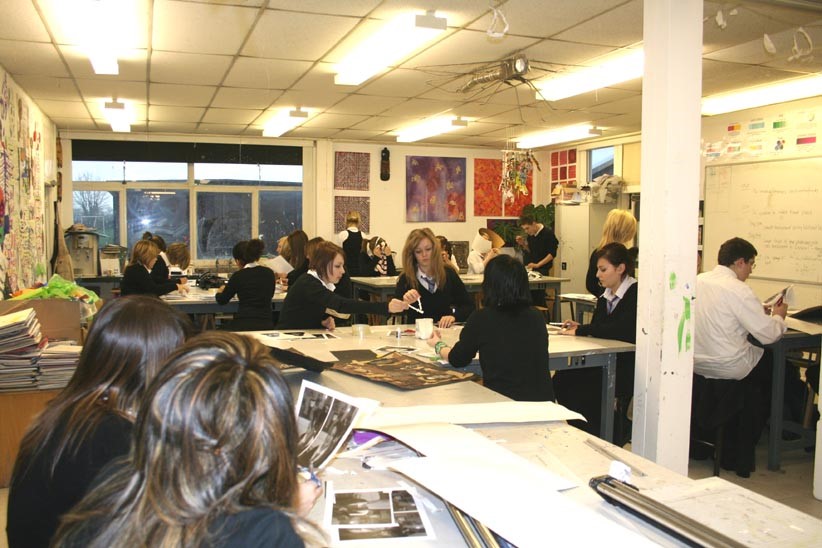 ​Art education has a vital role in the development of all our pupils. We encourage problem solving, the ability to work and think independently and provide opportunities to apply ideas and thoughts creatively. These skills, important as they are to life generally, can be applied to any future career path that students decide to follow.
Overview
Hello, I am Miss T. French, Head of Art and Design at Upton-by-Chester High School and I would like to welcome you to our exciting and innovative Department. There are 6 members of staff, including myself and we have a wide range of skills and experience to offer our students;
Miss T. French (Photography/Ceramics/ICT/Print) – Head of Art and Design
Miss S. Peterson (Fine Art/Sculpture)
Miss H. Wynn (Textiles) – 2nd in Department
Mr A. Prest (Installation/Sculpture/Photography)
Mr T. Thornton (Art Technician and Resident Artist)
Email the department: artdepartment@uptonhigh.co.uk
We pride ourselves on being a highly exciting and innovative team which offers a diverse range of activities in which students of all ages and abilities can learn to express themselves in a creative and independent way. The department has been extremely successful at KS3, GCSE and A Level, achieving grades above national expectations and with a large number of students going on to study Art and Design, both at Foundation and Degree level.
​The art department consists of a suite of 4 open plan art rooms, connected by a central workspace. The Art area has a computer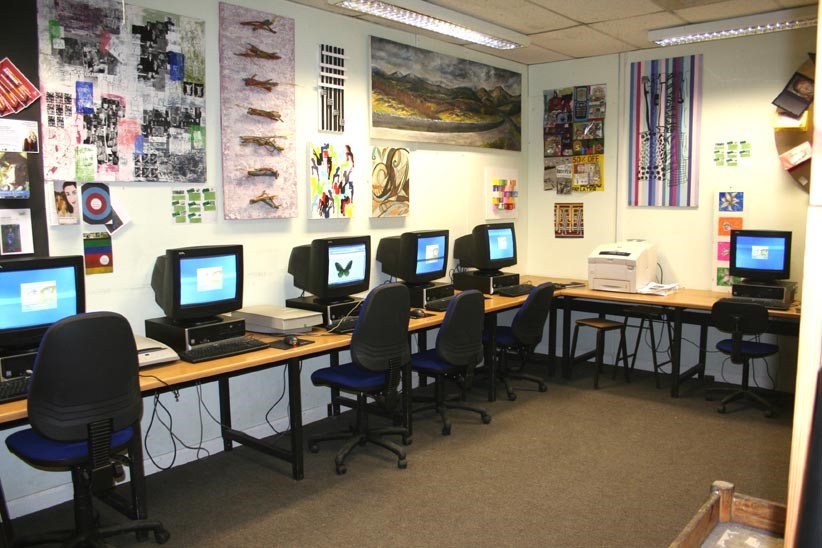 suite with 12 computers and a printer as well as a dedicated Photography suite. Photoshop, Paint shop pro and Serif are the art based design applications used. The central area is designated as a sixth form workspace used for independent study in free lessons and as a gallery for exhibitions, open evenings and options evenings.
Curriculum
Key Stage 3
Art is compulsory at Key Stage 3 and all students study Art for one and a half hours in year 7 and an hour in year 8. Projects are mostly teacher led and students will have an opportunity to experience a wide range of materials and techniques. By the end of year 8 students will have developed the independence and skills needed to continue on to GCSE.
Schemes of Work at Key Stage 3 are based on the National Curriculum requirements and on the Departmental Curriculum Framework. This ensures that all students cover a range of materials, techniques and processes throughout Key Stage 3. Homework is set approximately on a two week timetable and will support, inform and enhance classroom learning. Assessment is in accordance with Whole School Policy.
The Art department is embracing the use of new technologies in years 7, 8 and 9; absorbing them into the Art curriculum.
Example of KS3 Curriculum Framework
Each year, all students in Key Stage 3 will create a contextual review of the current years' GCSE Exhibition. The review must contain 3 boxes for drawing, 3 spaces for writing and a title; GCSE Exhibition review and the year.
Students should review one piece of 2D work, one piece of 3D work and one mixed media piece of work.
They should make notes;
The artists name, describe the work – What material is it made from? How is it assembled/created? Describe the colour and composition. What do you think of the work and why?
The review will be a levelled piece of work and should take approximately 4 lessons and homework. It should be well presented and neatly written using full sentences. It should be in full colour – using coloured pencils. It should have a 1cm border all around and be presented on a piece of paper which is 14.5cm x 42cm.
In addition, all projects will be underpinned with Drawing and Painting, the use of New Technologies including iPads and Textile techniques should be used within at least one project per year. Each project will also be supported with contextual references from both historical and contemporary artists, designers and craftspeople. This will be covered in both a pre and post-operative way.
Year Group

Processes and Techniques

Starting Points

Homework- per term

7

Painting – Liquid based medium

Sculpture – Paper/Card

Printing – Mono

Textiles – print/batik/machine stitch/hand stitch/construction/

Weaving

Identity - Self/Within the environment

Structure

Natural Forms

Culture

Palaeolithic – Gothic

Composition

Drawing – One lesson per fortnight dedicated to relevant observational drawing.

Drawing
Research
Collecting
Drawing
Research
Collecting

8

Painting – Liquid based medium

Sculpture – Wood

Printing – Press/Card

Textiles – print/batik/machine stitch/hand stitch/construction/weaving

Narrative - Letters and Numbers

Landscape

Natural Forms

Everyday Objects

Contemporary

Fashion

Op Art

Drawing
Research
Collecting
Drawing
Research
Collecting
Key Stage 4
Art and Photography are popular option choices at Key Stage 4 with large numbers of students opting to take one or more of the Art subjects through to GCSE. Results are very high with large numbers of students achieving or exceeding their target grades. The courses offered are AQA Fine Art and AQA Photograph. Student's put on a GCSE Exhibition in the summer and an exhibition catalogue is also available to purchase.​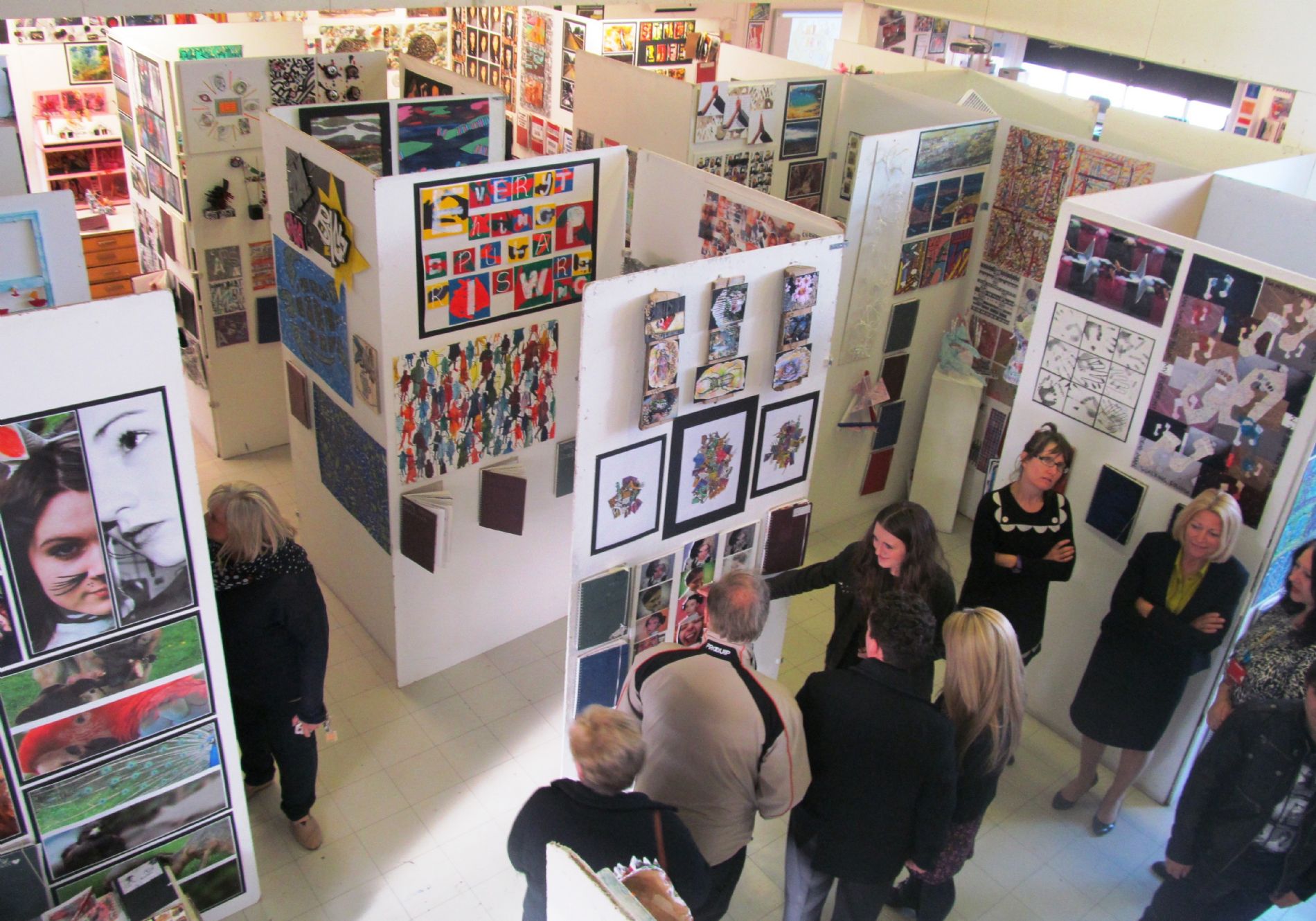 The Art and Photography GCSE's consists of a foundation year followed by portfolio unit and a terminal examination. The Portfolio Unit, (60%) is made up from a minimum of 2 projects and will be completed in class and for homework throughout years 10 and 11. The Portfolio unit will cover all four key objectives and students must show that they are able to use a range of appropriate media, materials and techniques.
The Externally Set Assignment, (40%) takes place in January - April of Year 11 and students will receive their exam papers in January of that year. All preparation work is undertaken with the guidance of the teacher and students are allowed to take this into their final, 10 hour, (2 x 5 blocks) practical exam.
Both Portfolio Unit and Exam are marked in accordance with AQA Assessment Objectives. The four objectives are;
Develop ideas through investigations informed by contextual and other sources demonstrating analytical and cultural understanding.
Refine ideas through experimenting and selecting appropriate resources, media, materials, techniques and processes.
Record ideas, observations and insights relevant to intentions in visual and/or other forms.
Present a personal, informed and meaningful response demonstrating analytical and critical understanding, realising intentions and where appropriate, making connections between visual, written, oral or other elements.
6th Form
Art and Photography A Level are popular choices at A-Level with many students going on to take an Art route at Foundation and/or Degree level. The Courses offered are AQA Fine Art and AQA Photography. AQA Textiles is also available for those students who are interested in this subject.
​The A level comprises of 2 units of work; The Personal Investigation, (Component 1 - 60% of total A Level mark) is based on idea, issue, concept or theme supported by 1000-3000 words. It is marked as a whole and internally marked by art staff and moderated by an AQA external Assessor.
The externally set assignment, (Component 2 - 40% of total A Level mark) is issued to candidates on 1st February. There are 15 hours of supervised time and the exam is marked as a whole by art staff and moderated by an AQA external assessor. There are separate question papers for each endorsement containing a choice of six exciting starting points. Candidates should produce a clearly defined selection of work which will lead to a finished piece or pieces.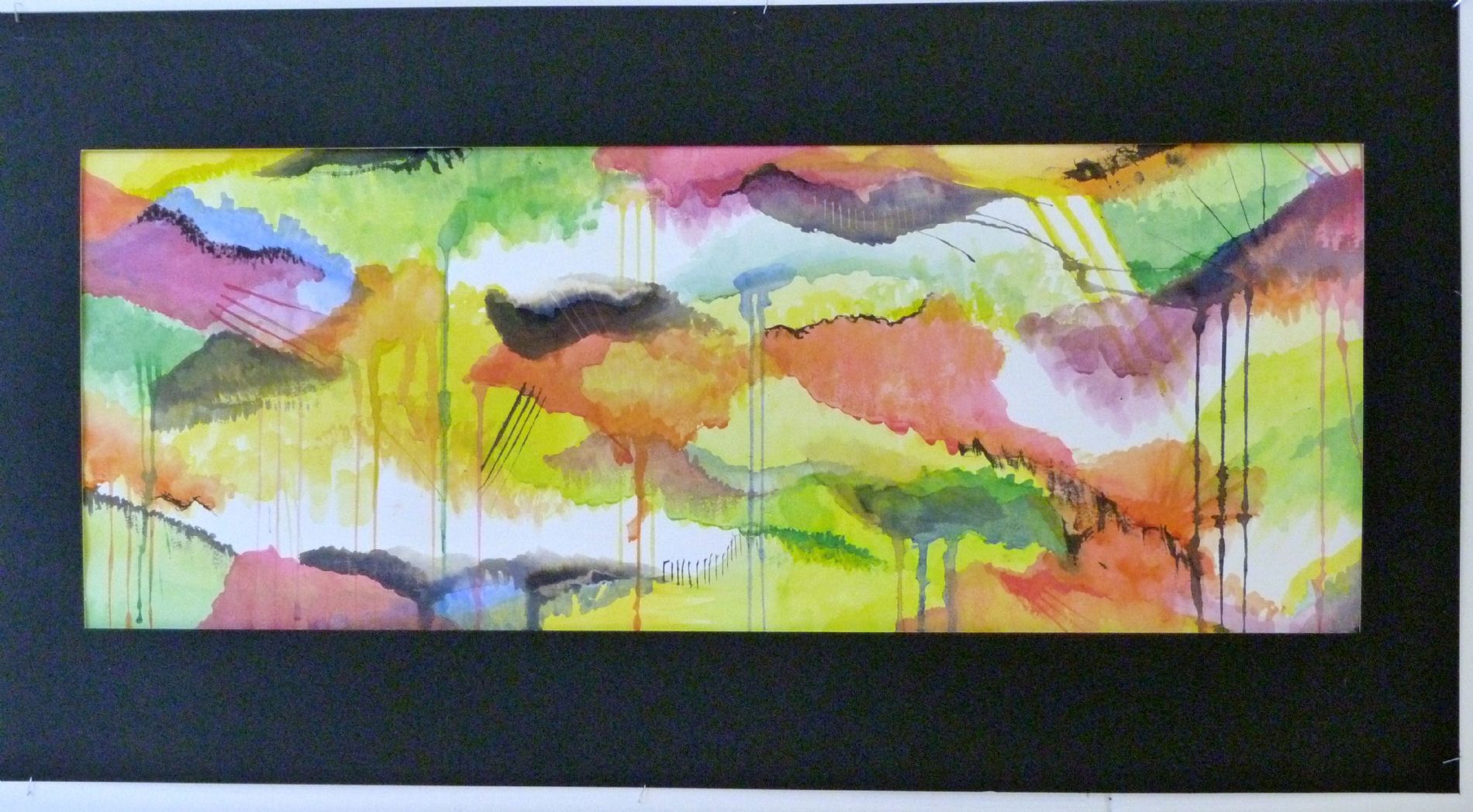 A Level students put on an Exhibition in the summer of Year 13. An exhibition catalogue is produced and available to purchase.
New homework timetable in place for Art
KS3
6 homeworks per term
2 drawing, 2 collecting and 2 research tasks
KS4
Research and collecting tasks when appropriate and/or
2 x hours independent study per fortnight
A Level
Research and collecting tasks when appropriate and/or
9 x hours independent study per fortnight as well as research and collecting tasks when appropriate.