Commonwealth Class Team
Upton-by-Chester High School was selected to take part in the Commonwealth Class team project. We were placed into Team Seven and followed Bangladeshi gymnast Syque Caesar. Depending on his schedule, schools in the team had the chance to communicate with Syque as he prepares to take part in the Glasgow 2014 Games.
Over 5 months we worked with 10 other schools from across the Commonwealth on a series of monthly collaborative tasks and we shared an online space on the British Council Schools Online Network. Every month there was prizes given for the most brilliant work from participating schools. These prizes included travel opportunities and ICT equipment. Monthly project activities lead up to a celebration of our team work at the end of May. This could be an online gallery, a film, a book or a blog that twill be judged and an overall winning team will be selected. Each school from the winning team was invited to send one teacher and one child to meet each other in Glasgow during the Commonwealth Games in July/August 2014.
To find out more about SYQUE CAESAR, you can obviously google him and there are also some good and very impressive clips on Youtube.
Team 7:
Fams International School & College - Bangladesh
Epiphany Of Our Lord Catholic Academy - Canada
UPTON-BY-CHESTER High School
Sri Venkateshwar International School - India
Hiranandani Foundation School - India
Kilimo High School - Kenya
Sekolah Tinggi Kluang - Malaysia
Abesan Senior High School - Nigeria
Senaoane Secondary School - South Africa
Swarnapali Balika Maha Vidyalaya - Sri Lanka
North Gate College - Trinidad & Tobago
Commonwealth Class Task 4
53 countries are members of The Commonwealth spanning Africa, Asia, the Americas, Europe and the Pacific. They are amongst the world's largest, smallest, richest and poorest countries and are home to over two billion people of all faiths and ethnicities.
The Commonwealth Charter states that diversity and understanding the richness of our multiple identities are fundamental to the Commonwealth's principles and approach.
The design for the Commonwealth Flag and logo incorporates an image of the globe. The spears that make up the letter C symbolise the many facets of Commonwealth co-operation around the world.
For task 4 each school in Team 7 was asked to design a flag and logo to celebrate the diversity of all the countries and schools within your team. Please see our entry below, designed by Chloe and Isobelle in Year 8.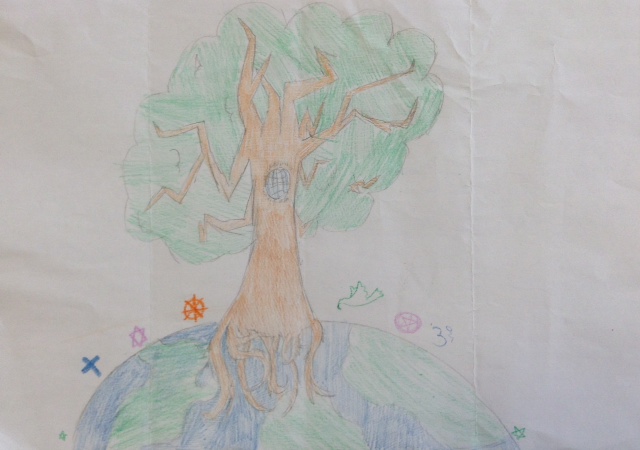 Our flag for the Commonwealth includes a tree and its roots to symbolise the growth and solidity of communities as well as religious symbols to represent diversity.
Task 3 - Recipe & Story From Kirsty (1.42 MB)
Task 3 - Recipe & Story From Marta (226.13 KB)
Task 2 - Upton-by-Chester High School: Turning our Voice Into Action