Learner Leadership
At Upton-by-Chester High School our school motto is 'Learning to shape the future'. This is at the heart of everything we strive to do. As part of this vision we believe in creating a learner leadership culture where learners take on key leadership roles and are actively involved in school improvement.
Our Learner Leadership model creates opportunities for learners to become confident and articulate leaders who can share their views to any audience and apply their leadership skills to real life situations within our community and beyond. We actively encourage learners to challenge, discuss and debate issues which are important to them.
Learner representation through the School Council is integral to Learner Leadership. Leadership and representation go hand in hand. Sharing the views of both staff and learners is essential to ensure to ensure a complete understanding of the challenges and opportunities that arise. These provide important chances for young people to learn how to lead.
Our Learner Leadership model builds on the key characteristics of our Halls Leaders: resilience, diligence, community, ambition and inclusion. Our Leaders breathe life, relevance, purpose and meaning in all that happens at our school.
The Learner Leaders are all voted into their roles by their peers as part of a democratic process. The Learner Leadership Team will meet on a regular basis working with other members of the team to develop and run programs that support the needs and interests of the school community. The Learner Leaders are trained and given the opportunity to help shape their own future by:
Working alongside the staff in making key decisions
Voicing opinions and ideas to improve learning and teaching
Being visible around the school to promote our three rules; Prepared, Respectful and Safe
Actively seeking the views of other learners regarding key issues and changes in the school
Working with external providers to develop and maximise opportunities for all
Delivering assemblies
Organising Year group competitions, activities and events to support charities locally, regionally, nationally and globally.
These opportunities include;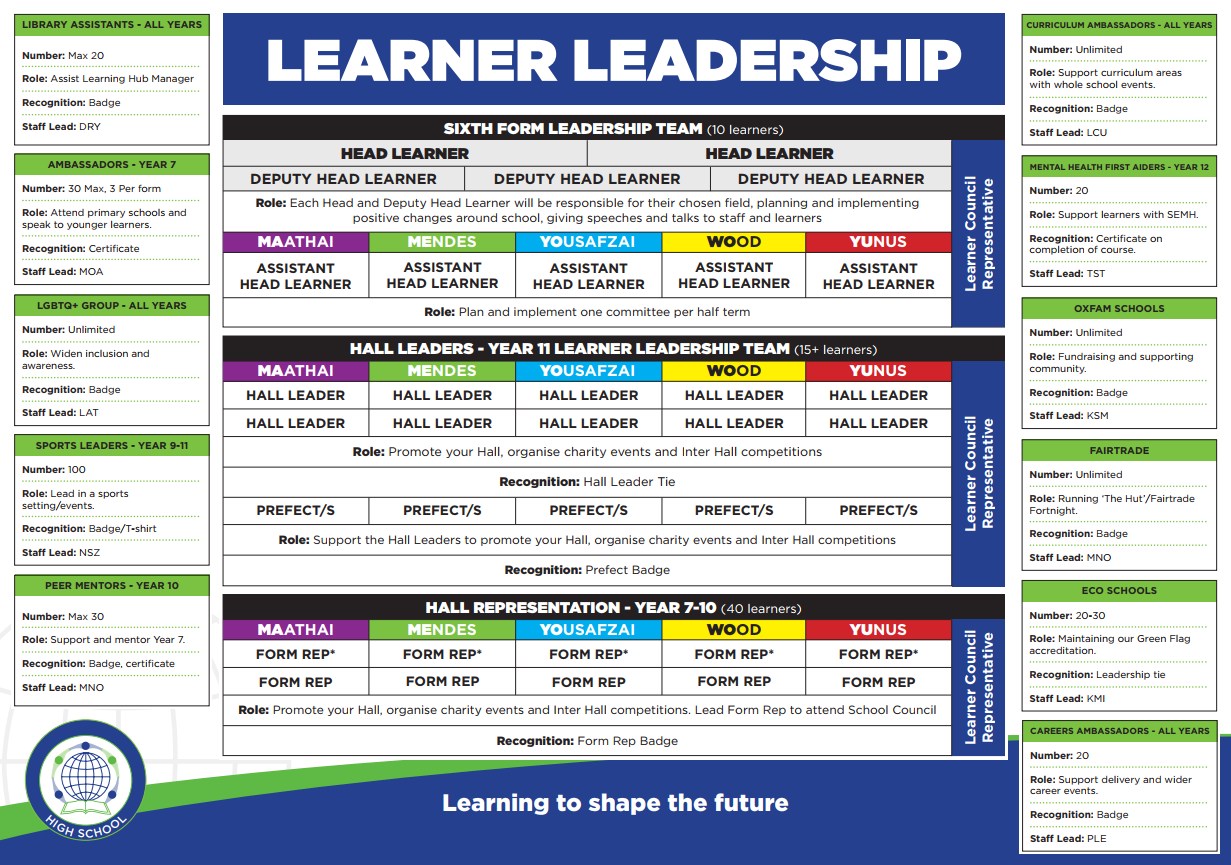 In addition to our Learner Leadership model, Key Stage 4 learners work towards their SSAT 'Student Leadership Accreditation' (SLA). Learners complete the Silver award in Year 10 and Gold award in Year 11. The SLA offers a formal way for our learners to champion and celebrate leadership skills developed inside and outside of school. It requires learners to create a portfolio in which they gather evidence to showcase their skills.